Original Title: Nanjing Pursues Long-Term Plan of BeiDou Application Industry--Connecting with BeiDou Network
2020.08.19
原标题为:南京长线布局北斗应用产业——联网北斗
On the morning of July 31, the BeiDou-3 Global Navigation Satellite System was officially launched, marking the completion of BeiDou Global Network.
Sky as chessboard and stars as pieces, BeiDou Network brightens the space.
Looking up at the starry sky, the BeiDou satellites seem out of reach, but they are actually around us. They not only serve the basic necessities of life, but also are widely used in agriculture, emergency response, earthquake relief, environmental protection and meteorology.
Nanjing has laid solid foundation for the development of the satellite application industry, and cultivated favorable business environment as BeiDou application is supported by the whole industry with still growing market extension. Among them, BeiDou location based service industry ranks second in terms of market share in China. As of the end of 2019, the output of BeiDou satellite application in Nanjing amounted to RMB 30 billion, the output of the upstream and downstream industries reached over RMB 60 billion with 70 large enterprises.
In the face of huge industrial opportunities, Nanjing seized the market through early deployment, enhanced the overall competitiveness of its BeiDou application industry, infusing new momentum into economic development.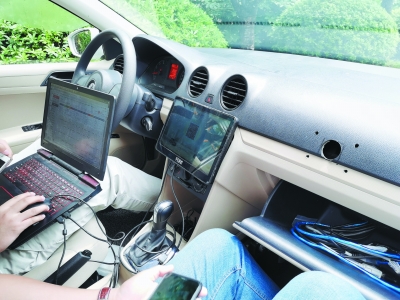 Staff Testing "Smart Robot Instructor" for Driver Training. Photo by Xu Ning, Reporter from Convergence Media of Nanjing Daily
Jiangsu BDS Application Industry Institute applying BeiDou Satellite System to civil defense Image provided by Duolun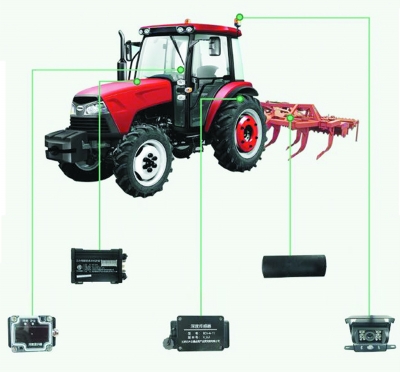 A farming machine equipped with a set of BeiDou terminal, enabling smart agriculture Image provided by company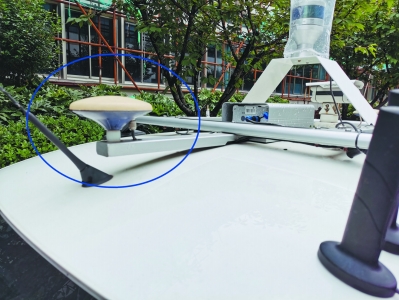 Staff installing the BeiDou navigation terminal on the test vehicle Shot by Xu Ning, Reporter from Convergence Media of Nanfang Media Group
Application of BeiDou:
Serving Stealthily Around us
In the past few days, the reporter visited a number of companies engaged in BeiDou applications in Nanjing and found that BeiDou has sneaked up on us, affecting all aspects of production and life.
Application Scenario One
Even with GPS Turned off, You will Never Get Lost with BeiDou Navigation
"Glad that BeiDou global network is successful. Please help me download BeiDou Navigation System. I don't want to use GPS anymore, I want to support domestic products..." Since the news of BeiDou Global Network is released, many relatives and friends have come to Ms. Guo Juan, Vice President of the Jiangsu BDS Application Industry Institute, with such request, adding "happy interruptions" to her life.
Ms. Guo told reporters that all navigation software in the mobile phone and navigators on the vehicles require map + satellite positioning to function. The former is provided by Baidu Map, Amap and other software, and the latter is provided by BeiDou from China, GPS from the US, GLONASS from Russia, Galileo in the Europe, QZSS from Japan, etc. Mobile phones (except for Apple) are multi-mode phones that can receive signals from multiple satellites.
Through a live demonstration of the AndroiTS GPS Test (satellite signal reception test software) downloaded onto mobile phones, the reporter found that mobile phones receive signals from 36 satellites in real time, including 16 BeiDou, 11 GPS, 8 GLONASS, and 1 QZSS satellites.
In recent years, with the launch of more BeiDou satellites, the BeiDou satellite system is more accurate at positioning. "This is why mobile navigation has become more and more accurate in recent years, attributing most directly to our BeiDou system." Ms. Guo commented that in China and surrounding regions BeiDou positioning is more accurate than GPS. Even with GPS turned off, you will never get lost with BeiDou satellite system.
Application Scenario Two
Farming Machine Turned into "Teletubbies", Enabling Real-Time Operation Monitoring
The Cheng Zizhong Agricultural Machinery Service Cooperative in Luhe District has 15 farming machines. During farming season, towns and villages would come to borrow them and send them into the field for plowing, sowing, and harvesting. Now every farming machine is equipped with smart BeiDou navigation terminal, which turns them into "Teletubbies" capable of real-time monitoring.
"In the early days of deploying farming machines, we often got into argument with farmers about the size of the field." Cheng Zizhong, chairman of the Cooperative, said that since the installation of BeiDou Navigation, farming machines can monitor operations in real time on the "Agricultural Machinery Butler Platform" and accurately calculate the size of farming fields to avoid disputes.
The staff of Jiangsu BeiDou Agricultural Machinery Technology Co., Ltd. said that the application of BeiDou Navigation allows cooperative managers to manage the operation status farming machine at a glance and calculate the field size accurately, and facilitates precise implementation of the government's national agricultural subsidy policy.
At present, over 20 provinces including Jiangsu, Zhejiang, Hubei, and Liaoning have adopted the system application, and over 60,000 agricultural machinery management terminals are installed nationwide.
Application Scenario Three
Centimeter-Level Precision Positioning, "Driver Training Robot" Replacing Instructors
At the Subject II Test Facility of Nanjing Tianbao Driver Training Institution, a student was taking a test on reverse stall parking, he got his points deducted for rolling over the stall line after turning the wheel.
"Based on the high-precision positioning device installed on the test vehicle, the system builds contour model and tire model of the test vehicle, identifies the graphical relationship between the test vehicle and the geometric model of the test facility, to determine whether the test vehicle should pass the test." Song Zhijun, Director of Driving Safety Technology Research Institute, Duolun Technology, told reporters that the assessment based on satellite differential positioning has achieved centimeter-level precision.
"Turned the wheel too early at quarter turn", "The left rear wheel rolled over the line during reverse stall parking"... On the morning of August 10, several employees of Duolun were testing the "Driver Training Robot" in a car, which constantly prompted error correction for the "trainees".
The reporter saw an antenna on the roof of the vehicle, and two BeiDou positioning devices at the front and rear ends of the roof. Mr. Song said that "Driver Training Robot" can replace instructors through centimeter-level precision positioning and are already deployed at many driver training institutions.
Application Scenario Four
Nearby Police Dispatch and Electronic Fences, Useful with Public Security Operations
Walking into the 110 command center of Nanjing Municipal Public Security Bureau, the real-time location of police patrol vehicles is displayed on the big screen. After receiving a emergency call from a citizen, the 110 operator immediately dispatched the nearest police to the caller's location.
Since November 12, 2018, the Nanjing Traffic Management Department has set up an "electronic fence" in the core no stopping area of Xinjiekou, restricting order taking and dispatch of car-hailing software, which strongly reduced illegal parking, random stopping, slowing down and other traffic violations on the surrounding roads.
"Police? My mobile phone was robbed..." After receiving the incident call, the 110 command center immediately alerted local police station to dispatch police patrols, who then quickly arrested the suspect.
……
"These functions empowering public security operations are all based on the BeiDou satellite system." Zang Yubo, Director of the Sales Center of Jiangsu BDS Application Industry Institute, told reporters that in August 2018, they cooperated with the Nanjing Municipal Public Security Bureau to establish a police spatiotemporal positioning service innovation center, which established a cloud data service platform providing police spatiotemporal location for public security authorities to ensure urban safety. The center played a part in patrol management, command and dispatch, police emergency analysis and decision making, etc.
Industry Overview:
Location Based Service Industry with Second Largest Market Share in China, Industrial Chain Advantage and Enterprise Agglomeration
Based on the strong industrial foundation and the advantages of technical talents, Nanjing is vigorously promoting the development of the BeiDou satellite application industry in accordance with the "Nanjing BeiDou Satellite Industry Plan".
The relevant personnel of the Innovation and High-Tech Development Department of the Municipal Development and Reform Commission introduced that at present, Nanjing BeiDou Industry has shown growing agglomeration with Jiangbei New Area as the core and Jiangning, Yuhuatai and Gulou Districts as special application areas. Nanjing strives to promote the in-depth application of BeiDou system in the smart city fields such as transportation, law enforcement, agriculture, urban management, and education, driving industrial development with innovative application.
Nanjing has rich science and education resources. Its universities show great strength in the fields of satellite navigation, satellite remote sensing, geographic information, aerospace and other disciplines, constituting solid support for the city's BeiDou industry with scientific and technological talents.
"Location Based Service" is one of the most direct applications of the BeiDou industry. Nanjing has significant advantages in key areas and ranks second in terms of market share in China's BeiDou location based service industry.
There are currently 300 satellite navigation companies in Nanjing, producing quite a few leaders engaged in BeiDou navigation chips, components, modules, antenna components, terminals, software research and development, and location based services along the industrial chain with relatively comprehensive field coverage--
Institute 55, Institute 63, Bona and other key companies focus on chips and modules; North Information Control, Institute 6902, Aerospace Changfeng, Compass, NARI Group, Guodian Nanjing Automation and other institutes and enterprises focus on application terminals; Institute 14, China Spacenet, and Duolun Technology focus on software; Institute 28, Jiangsu BDS Application Industry Institute, TIZA, Linkage Group, and other scientific research institutes and backbone enterprises focus on integrated data and operational services.
In August 2018, Duolun Technology strategically invested in Hunan Bynav Technology Co., Ltd. The company focuses on the research and development of core components for high-precision satellite navigation, has launched a series of products based on chips and algorithms including high-precision board, high-precision receiver and integrated navigation system, and established multiple integrated product lines ranging from chips to complete machines. It provides core components and solutions for high-precision positioning for intelligent connected vehicles, autopilot, driver training and testing, surveying and mapping, geological disaster monitoring, industrial control and other fields, further improving the layout of the industrial chain.
Future Model:
Focusing on Terminal Products, Smarter "Bus Priority Control"
When an ambulance is rushing a critically ill patient to the hospital, the BeiDou positioning terminal on board transmits its position to the traffic light control system at intersections in real time. The light control system adjusts the lights at every intersection the ambulance passes through to ensure it hits green lights all the way, buying time while avoiding the risk of running a red light.
Duolun Technology applies BeiDou Satellite Positioning to driver training and testing. Image provided by Duolun
In the near future, this scenario will become a reality in the "Public Transport Priority System" created by Duolun Technology. Zheng Peiyu, Director of Duolun's Smart Industry Research Institute, said that the "Bus Priority System" is based on on-board BeiDou navigation devices. Combined with 5G and high-precision maps, it can prioritize public transportation for special vehicles such as rescue vehicles and emergency vehicles and establish an integrated smart traffic solution of "people-vehicle-road-cloud" collaboration.
The relevant personnel of the Municipal Development and Reform Commission pointed out that to comply with the development strategy and deployment of BeiDou application industry by the State and Jiangsu Province, Nanjing strengthens technological innovation, and vigorously enhances the independent development of the BeiDou application industry. Focused on industrialization, informatization, urbanization, and agricultural modernization, and other important demand, Nanjing promotes demonstration application of the BeiDou satellite navigation system in key areas such as smart traffic, vehicle networking, telecommunications, electric power, emergency rescue, meteorology, logistics, water conservancy, forestry, fishery, as well as surveying and mapping, to enhance the overall competitiveness of BeiDou application industry in the region.
Focus on navigation chips, timing chips, navigation map software, and GIS software used in the industry, focus on the development of high value-added satellite navigation terminal products and satellite communication terminal products based mainly on BeiDou, and promote transfer of manufacturing industry of satellite application terminals in the Yangtze River Delta;
Build a highland of industry-academy-research integration, establish high-end R&D institutions to attract and train experts in satellite applications, introduce advanced technologies from universities and research institutes, and strive to transform research results and become an incubation base for high-tech enterprises;
In terms of spatial layout, form the BeiDou industrial base comprised of "one core and three areas", that is, Jiangbei New Area as the core area for R&D and manufacturing of satellite application high-end products and for location based service application industry, and Jiangning, Yuhuatai, and Gulou Districts as agglomeration area for special innovative application of BeiDou satellite system;
Promote the agglomeration of local satellite application infrastructure companies into the BeiDou Industrial Park to form a Nanjing satellite application infrastructure and satellite application terminal industrial cluster, and promote application demonstration projects in various industries such as emergency law enforcement applications, grid-based social governance applications, agricultural machinery operations, autopilot and self-driving, land surveying and mapping, and disasters early warning and fire emergency;
By 2025, our city will be built into a leading BeiDou application industry agglomeration in China featured by distinctive industrial characteristics, a complete industrial chain, and organic industry-academy-research integration as a significant leading model. Its scale will exceed RMB 80 billion.
Expert Comment:
"BeiDou+" and "+BeiDou", Application Industry Presents Big Opportunities
From on-board navigation to children's positioning watches to elderly care services... Since the commercialization of BeiDou-2 in 2012, Chen Fuzhou, Dean of Jiangsu BDS Application Industry Institute, has never stopped exploring BeiDou applications. Under his leadership, the team focused their efforts on the fields of public safety, integrated urban management, smart civil air defense, integrated fire protection, and smart agriculture, based on three main platforms for location services, detection certification and foundation enhancement.
"Spatiotemporal service is integral to our life." Chen Fuzhou said that the BeiDou satellite system is not only the lifeline of the country, but also widely used by civilians and quietly changing our way of production and life.
Civil defense + BeiDou, agriculture + BeiDou, transportation + BeiDou... BeiDou can be applied to all industries; BeiDou + big data, BeiDou + 5G, BeiDou + cloud computing... The combination of BeiDou and cutting-edge technologies promises "strong cooperation" with maximum utility.
Mr. Chen also commented that the success of BeiDou's global network will surely bring huge opportunities to the BeiDou application industry. Companies should deepen the integration of the industry with BeiDou as well asthe integration of BeiDou with cutting-edge technologies, making the pie bigger in terms of industrial application.
Shen Fei, associate professor of the School of Geography, Nanjing Normal University, said that the success of BeiDou's global network means that BeiDou has transformed from a regional service system to a global service system, constituting a foundation for China's BeiDou application companies to go to global markets in Europe, America and Africa.
For example, vehicle manufacturers such as BMW and Mercedes-Benz used to choose American GPS for car navigation systems. Today, China's BeiDou has achieved global coverage, giving these car companies with another option.
In addition, as the BeiDou application industry sets low entry barrier, it is bound to attract a large number of enterprises. Local enterprises in Nanjing need to strengthen technological research and development, innovate applications, and continuously tap new markets to survive. At present, with strong scientific research capabilities, Nanjing University, Nanjing Normal University, Army Engineering University, Hohai University, Nanjing Tech University and other universities will continue to fuel the development of BeiDou application enterprises.